After a tip from Marjorie from Holland, here's a post on Café Retro.
Go there and have a beer or a coffee with purpose! The café does not make any profit from selling what they do, because all the profit goes to India and Africa (true Danish style - we like to give, we like our coffee break and we like to feel good about doing something for the world in the sense that we contribute by doing what we would have done anyway - enjoy a coffee break at a nice café). You can read on the webpage, which projects the café - and you, if you go there - are supporting: http://www.cafe-retro.dk/
There are two of the Retro Cafés (one in inner city in Knabrostræde and one in Jægersborggade (which is a phenomenon in itself - word has it that this is the hippest street in Copenhagen with eco candy and clothing shops, recycled clothing, music and art shops)).
The atmosphere in both of the cafes is really relaxed; lean chairs, hammock chairs, old-style wooden furniture and cushions (you get a feeling of a hippie-grandma's living room), in Nørrebro part of the walls are covered with old Donald Duck-comics and one has a photo exhibition on it.
As for food, they have soups, nachos, cake and various snacks. If you show a valid student ID, there is a student discount on some of the things in the menu.
The city-Retro also has live music Fri – Sun at 21.00. One more great thing about Retro: the prices. Not even the backpacking students can say its too expensive! Plus, there is free wifi.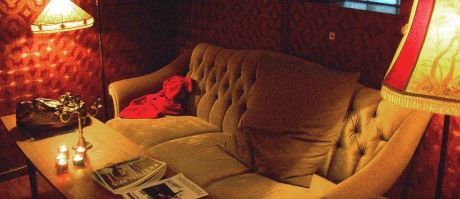 Knabrostræde 26, 1210 KBH
the far end of Jægersborggade, 2200 KBH N
Opening hours:
Mon: Closed
Tue-Wed:12-23
Thu: 12-00
Fri-Sat: 12-01
Sun: 12-23
Best,
Nanna