Straight to business, can't wait for the weekend to begin!
Friday:
Guilty Pleasures with The Golden Ladies
Ladies night on Ideal Bar! Copenhagens' finest lady-DJs (the list is loooong) will be playing tons and tons of "guilty pleasure songs". Come on, you've also rocked the dance floor to "Vamos a la playa" or Las Ketchup! I know it!

For the first hour (22-23) it's ladies only - and free Guld Tuborg beer! After that the dudes are welcome. :)
Free entrance!
Ideal Bar, Enghavevej 40, København V
More on Facebook: https://www.facebook.com/events/560381940639705/
Opening party in a record store
A new record store/café, DORMA 21, is opening on Nørrebro! Come and celebrate this friday!
(but please, sign up on facebook by accepting the invite on the event)!
There will be some beer and some wine for the guests and some DJ's will provide the music!
16-midnight!
Birkegade 21, 2200 KBH N
Facebook-event: http://www.facebook.com/events/159376177545205/
Saturday:
Copenhagen Roller Derby
Ever seen a roller derby before? It's basically women in tiny shorts and rollerblades tackling each other. It's going to be brutal and really entertaining!
The two Copenhagen teams will be taking on the challengers from Norway and Finland!
13:00: Doors open
14:00: Rollin Heartbreakers vs. Helsinki Roller Derby
16:15: Kick Ass Cuties vs. Nidaros Roller Derby
19:00-02:00: Afterparty at Ideal Bar, Enghavevej 40, 1674 Kbh V
At

DGI-Byen (Big hall), Tietgensgade 65, 1704 Kbh V
Buy tickets here:
http://www.sporti.dk/ticket.php?e=17
(90 kroner on the webpage, 100 kroner in-door)
Distortion Dark #2
The second Dark Distortion party will be this saturday from 21-04. Entrance = 60 kroner, be there well in time, because the line is going to be loooong. That's because they are going to have a real foam party! :D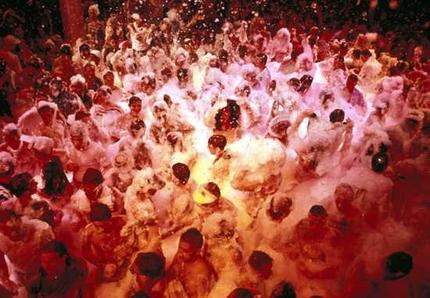 YAYYY! The music will be mainly 90's techno - this is the lineup:
Adam August

Boycrush & Soho

Brynjolfur

Ecstasy Castle

Slumblogmillionær

Nina Castenskiold & Allan Mallan

Mischa Pavlovski

Vektor

Why Be

It's probably going to be the most crazy party anywhere in Copenhagen this weekend.
At Kayak Klubben, Knippelsbro, KBH
Facebook: https://www.facebook.com/events/126420180868160/?fref=ts
Sunday:

RubADub Sunday
What you need to soothe your aching hangover head is a nice Super Power Digi Rave Session at RubADub, the reggae-dancehall sunday club. A Super Power Digi Rave is a session with one mic, two record players and some of the best dancehall MC's in Denmark - nothing else is planned. The lineup includes some of my personal favorites of all time (I've been hyping them a lot on the blog, but hey, they are awesome... at least in my opinion):
On mic:
Klumben,
Raske Penge,
SUKKERLYN (<3)
Ham der Hasse,

Skodkongen,

Chancho,

Mighty Mala,

Mikael Melody

Spinning records:
Firehouse Sound

og Fuma Hi Fi.

Original roots and culture, as they say! It's going to be a very unique experience.


From 22-03, entrance: 50 kroner
At Stengade 18, 2200 KBH N.
Best weekend wishes,
Nanna